Alt Parenting #5: Coparenting Contract + Tips For Creating The Arrangement with David Jay
A three-parent family shares their contract and tips
Hello all! There's been a long pause on this newsletter. Thank you for bearing with me.
The main reason for the pause is that I'm starting a new publication, with a bigger scope than this newsletter. The publication, which we're calling The New Modality, will include alternative parenting as a topic — and other topics too!
Here's a short writeup about The New Modality, temporarily on Medium until our website is ready.
In the future, I suspect that most of my writing and interviews about alternative parenting will appear in The New Modality. (I'm also looking for writers, so if you want to write on these topics, check out our submissions form!)
However, there are a few things I want to share with you all first.
The Coparenting Contract and "Menu of Responsibilities" from a Three-Parent Family
First I want to share the coparenting contract used by David Jay and family. David Jay is an asexual activist, currently coparenting a toddler in the Bay Area with two other parents. He writes and speaks extensively on the topic of building intimate, committed relationships that break traditional romantic scripts. His work has been featured on 20/20, The View, and in a feature-length documentary.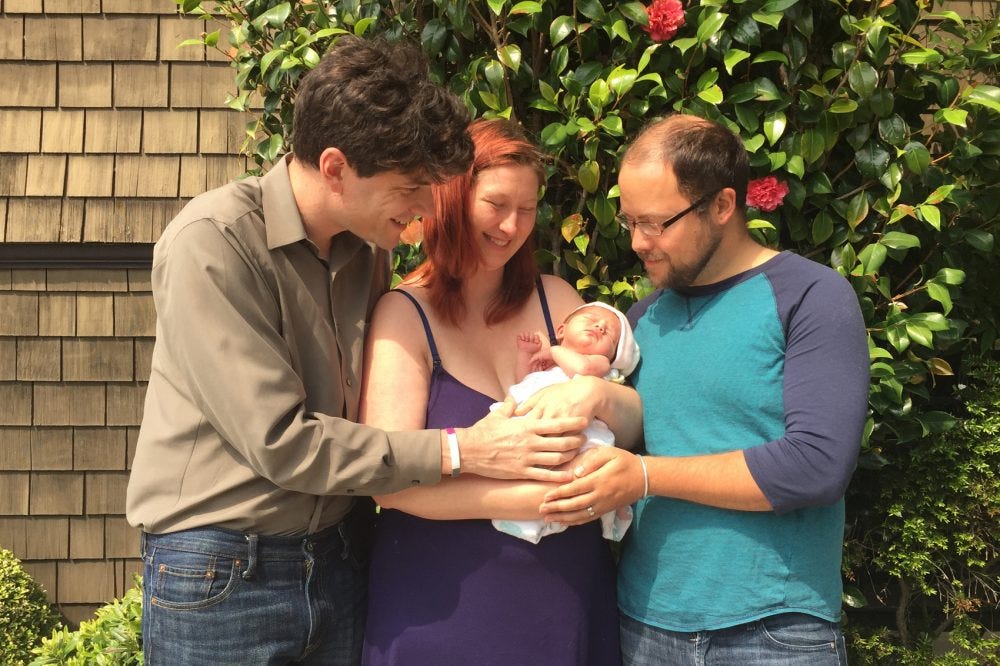 Photo: David Jay (left) with his coparents, Avary Kent and Zeke Hausfather, and their daughter, Octavia Hausfather Jay Kent.
David was kind enough to create an abridged version of the contract that he uses with his coparents. (Some personal material has been removed from this contract.) If you're curious to see what sort of contract a three-parent family would create, click here!
Additionally, David has developed a list of prompts for people who are interested in coparenting. This is designed to help people think about how they might want to coparent — you can go through it, alone or with your partner(s), when thinking about how to share logistics and responsibilities. He calls it the Menu of Parental Responsibilities.
Thanks to David and his coparents for sharing so much information about what they're doing!
More Soon!
I'll send at least one more update to this list. And again, if you want to learn more about what we're doing at my new publication, The New Modality, there's lots of information here. Or, if you have any questions, I'm available by email or on Twitter.
Warmly,
Lydia