Decades of supporting California's alternative families
I heard about Ora Prochovnick because she helped some friends in San Francisco work out their coparenting contract. Prochovnick has been working in alternative family law for years, and has applied it in her own life: this picture shows her with her partner, Rena, and their kids.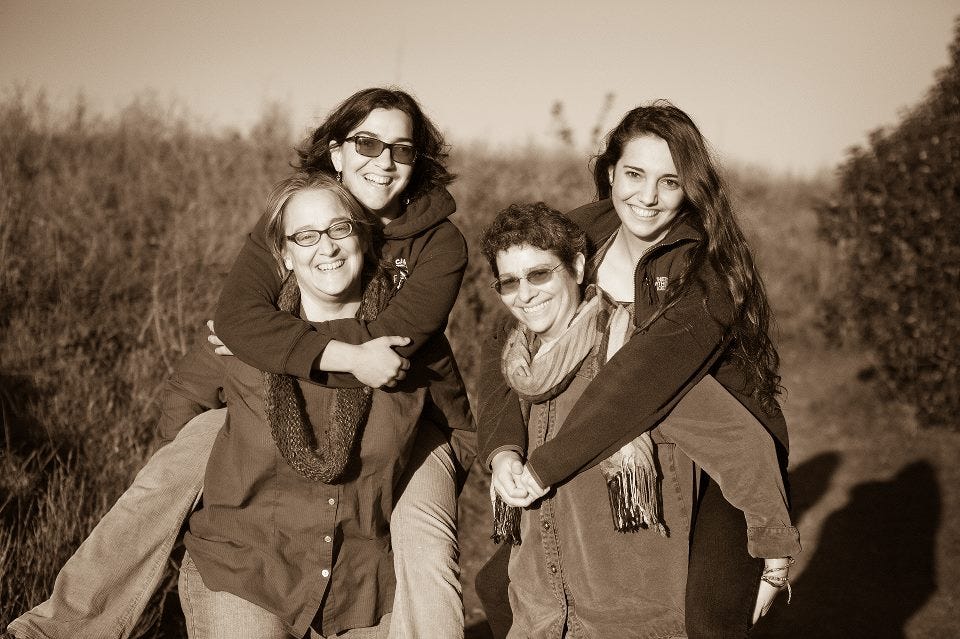 Photo: Ora Prochovnick (bottom right), her partner Rena (bottom left), and their two children.
I'm grateful to Prochovnick for agreeing to talk with me about California law as it applies to alternative parenting, and about changes she's seen in the decades she's been practicing. Some things I learned from the interview:
• California is now the very first state to allow more than one legal parent. In fact, there's no legal limit on the number of parents one can have.
• Prochovnick is seeing more people in her law practice "who wouldn't normally identify with alternative culture or alternative sexuality," and she's also "seeing more men outside of traditional heterosexual coupled relationships interested in parenting."
• (Note: I also recently spoke to a lawyer in New York who specializes in alternative family law, so keep an eye out for that interview if you're interested in what it's like out in New York!)
Read on to learn more…
This interview is part of Lydia Laurenson's Alternative Parenting Project.
LYDIA: I found you because you helped some friends of mine write their coparenting contract. But I understand that you don't just have legal experience — you also have personal experience with alternative parenting from the queer perspective. And you're also on the board at Our Family Coalition, in San Francisco, and have a broader role in the community.
ORA PROCHOVNICK: Yes. I have been working to create and protect families as a lawyer for over 30 years, primarily with LGBTQ families, but also with a variety of other family constellations. I myself am a parent as well. Our kids are pretty old now — they're twenty-four and twenty-eight. My partner and I raised them in a collective household; we are the primary parents, and there were other members of our household involved in raising our kids.
Separate from my everyday legal work with families, I have a strong interest in housing law. I'm a property professor and I run a housing clinic.
Has all that been in San Francisco?
It has. Although… thirty years ago, I was not a parent, but I lived in a collective household in St. Louis, Missouri that had children. That was after I went through college. I still have a relationship with those kids! Some are now parents themselves.
Do you have a sense of whether alternative parenting is on an upward trend?
Anything I could say would be completely anecdotal, because it's not something I've done any research on. And I do think that the LGBTQ community has always been more creative than the mainstream, in defining what family is for us.
I can think of families I worked with, long ago — including one family I was just catching up with recently, whose child is now in her mid-thirties and has children of her own. Her parents were both lesbians, but they were not in a relationship with each other.
That's been very common in the lesbian community, parenting outside the sexual relationship. There's an assumption that if you see two lesbian moms together, they're in a relationship, but that's not always true.
What might be newer is that it's moving more into the polyamory community. I would say, from my practice, that there are more populations exploring different ways to create family and be parents.
Sometimes I think the straight community is catching up! I'm seeing more people in my law practice who wouldn't normally identify with alternative culture or alternative sexuality. People who otherwise would be perceived as straight, who are more open to a different understanding of family.
I'm also seeing more men outside of traditional heterosexual coupled relationships interested in parenting.
What did it look like when you started?
When I look back over the 30+ years I've been doing this, there was a time that it was either lesbian couples or heterosexual couples. Back then, there were also occasionally some who did it in less traditional constellations of three or four, maybe two women and a man, or two men and a woman. There were also much fewer legal protections back then.
How does polyamory and heterosexuality intersect with the people you're seeing today?
Some of the clients I work with in intentional families are doing it within polyamorous relationships. And some of my clients are completely divorcing their desire to parent from their sexuality. On that note, I've worked with people who define themselves as asexual.
I've also seen exes choose to be family together. I've seen that more often with queers, but also with straights.
One thing I've been curious about is how different racial minorities are engaging with alternative parenting. As I'm sure you know, it can be complicated to talk about sexuality in different racial groups.
A lot of the "standard" alternative lifestyles — by which I mean the "famous" sexuality-related subcultures, like polyamory or swinging — are largely white. That doesn't mean there aren't people outside those cultures who engage in those practices, but a lot of the time, those folks aren't part of those subcultures. A lot of the time, there's different vocabulary and even different norms for people who do it outside the subcultures. So that can make it hard to track what's happening in those groups.
Completely agree. For instance, in the African-American community, and in a lot of Native American communities, the whole concept of extended family has long been more present. It's not, like, a new innovation, or pushback against the nuclear family. There's more of a sense already that the whole community is involved in nurturing and loving a child. So, given that there's already a more expanded definition of parenting, it feels more natural and therefore less countercultural.
But when white folks do it, it feels more like countercultural activity.
One thing I've observed in my community in San Francisco, among people who are interested in alternative parenting, is that a lot of the people drawn to these ideas grew up internationally. Maybe they grew up in Eastern Europe, maybe in India, but they're saying things like, "I just can't imagine doing this nuclear family thing the way Americans do it, it just seems so hard based on my experience from my birth culture."
What are some of the biggest challenges you've seen California coparents work through, in your legal work?
I would say one challenge is having the conversations at all, so they're all on the same page. One of the things I do is help people create coparenting agreements, and I always tell them, "You know, you could pay me a bunch of money to write a contract, but it's more meaningful if you create the agreement and I help you to turn it into legal form." I encourage people to have a lot of "what if?" conversations with each other, to develop a shared vision and picture of what exactly they want to do together.
It's not like there are right or wrong ways to do this. But it's really important that all the participants have a shared understanding of what coparenting means to them. The most important thing is that they have a foundation of trust and understanding. That will then be layered with the legal relationships, or lack thereof.
There are some legal overlaps with that — as a society, we have very clear legal definitions of what it means to parent, the rights and obligations attached to a parent as opposed to a non-parent. So people who are defying those rules, and having non-parents take on some of those rights and responsibilities but not necessarily all of them, just need to figure out what they want from that package. There also might be legal differences of people's status that would cause power imbalances over time.